Wondercide Flea And Tick Spray, Lemongrass
Spend

$59.00

to

FREE LOCAL DELIVERY
Free Same Day Delivery on Orders $59+
100% Satisfaction Guarantee
Fast & Easy In-store Pickup or Curbside
Kills, repels & prevents

fleas, ticks, and mosquitoes. Kills the entire pest life cycle.

Safe* & effective

A plant-based alternative to conventional flea-and-tick products.

Treat Nature with Nature™

Made with steam-distilled essential oils and other good things from Mother Nature. No artificial colors or fragrances. Clove-free.

Mom made. Mom approved.

Handcrafted in the USA from plant-based, sustainable ingredients.
TO APPLY TO PETS. Do a test spray at the base of the neck and wait an hour or so to make sure your pet isn't sensitive to one of the plant-based ingredients. Rub your pet's coat in the opposite direction of growth, spray, and rub in. Spray the body, belly, legs, and tail. Don't forget in between the toes. Spritz into your hands and rub onto your pet's ears and face. Avoid spraying near or in mouth, nose and eyes. Do not soak or oversaturate your pet. Full coverage will ensure best results. The spray kills by contact when wet and repels when dry.

FOR CATS. Since cats are more sensitive and by nature and can be skittish around big bottles, use the 4oz spray. Many cats prefer to have Flea & Tick Pets + Home applied by hand. Spray into your hands and massage on to your cat.

FOR AN ACTIVE ISSUE. Apply this flea and tick killer for to dogs and cats daily until you don't see anymore active bugs. Once you begin to apply to your pet, do a thorough treatment inside your home. Follow the label directions and spray on household surfaces including carpet, hard floors, furniture, and pet bedding. One thorough treatment usually does the trick, but a second may be needed a few days later for some infestations. Spot treat pet bedding and favorite hangout spots until you no longer see active bugs. If you have a yard, use with Flea & Tick Control for Yard + Garden. If you don't get rid of the bugs in the yard, you'll have a tougher time getting rid of them in your home and on your pet.

AS A PREVENTATIVE. For pest prevention and to repel fleas, ticks, and mosquitoes, apply to pets every 2-3 days and each time before visiting areas not protected by Wondercide, such as at dog parks or on trails. Repeat as needed based on pest pressure in your area to kill and repel fleas, ticks and mosquitoes. Safe for daily use when used as directed. Use inside the home as needed or to freshen pet bedding and surfaces anytime. Many customers add a light misting of Flea & Tick Pets + Home to their weekly cleaning routine for added protection.

NOTE ON LEMONGRASS. Lemongrass oil has a naturally yellow tint and may temporarily discolor light fur and fabrics. It will wash out of fur. If you have a pet with a light coat or you plan to spray light-colored household surfaces, consider another scent or test fur and surfaces before use.
Active Ingredients (8%), Source, and Purpose
4.2% Cedarwood Oil Texas and Virginiana cedar trees Kills and repels pests. Scent qualities: Calming, Soothing, Comforting.
1.5% Lemongrass Oil (In the Lemongrass scent) Cymbopogon flexuosus Kills and repels pests. Scent qualities: Revitalizing, Invigorating, Uplifting.
2.2% Sodium Lauryl Sulfate Coconut and/or palm oil Used to boost the efficacy of the essential oils to aid in killing pests. Learn more here.
0.1% Sesame Oil Sesame seeds Enhances the repellency of essential oils.Inert Ingredients (92%) and Source
Water Deionized water
Ethyl lactate Corn and/or Sugar Beets
Sodium Chloride Table salt
Polyglyceryl oleate Palm, Soybean, and Canola Oil
Glycerin Vegetable oil
Citric Acid Corn
Vitamin E Vegetable oil – soybean
Trisodium Citrate Dihydrate Corn
View full details
Add an additional description to your product option. Ex: Size guides, and other common questions.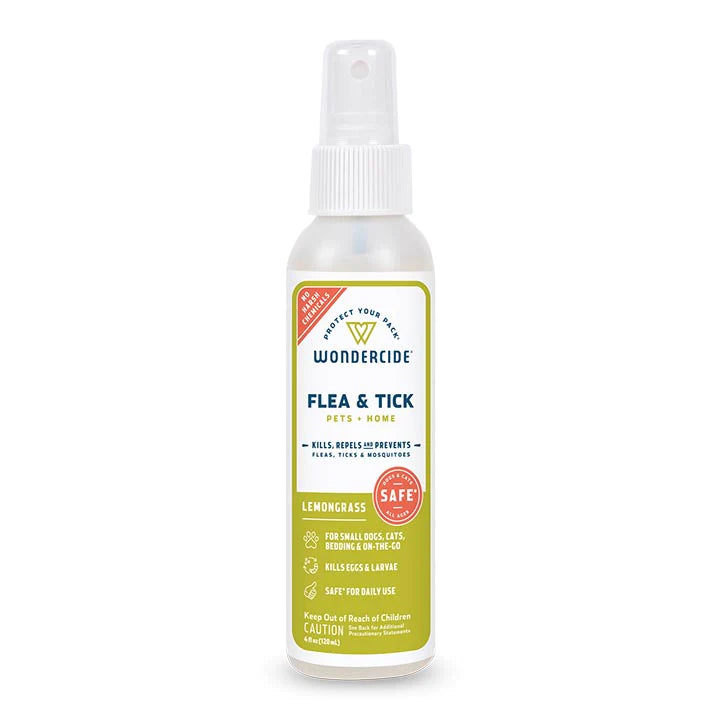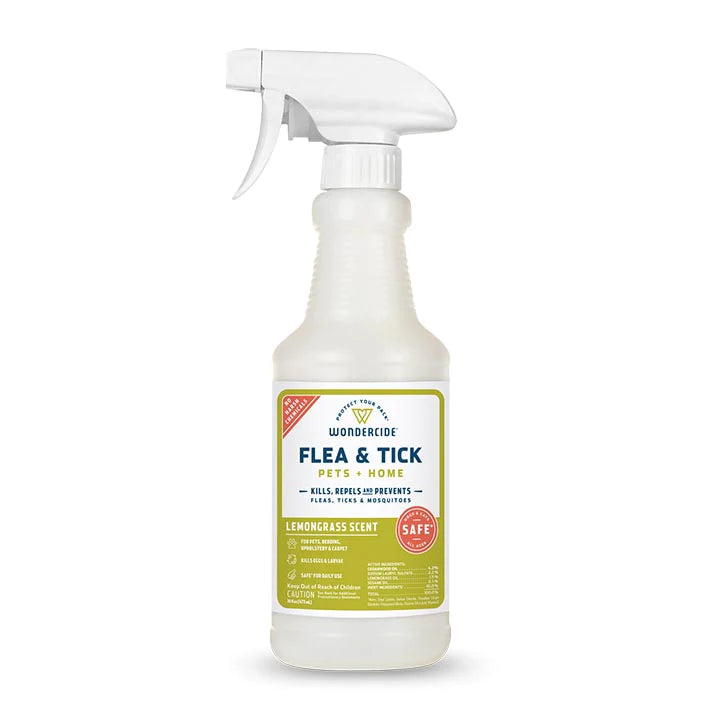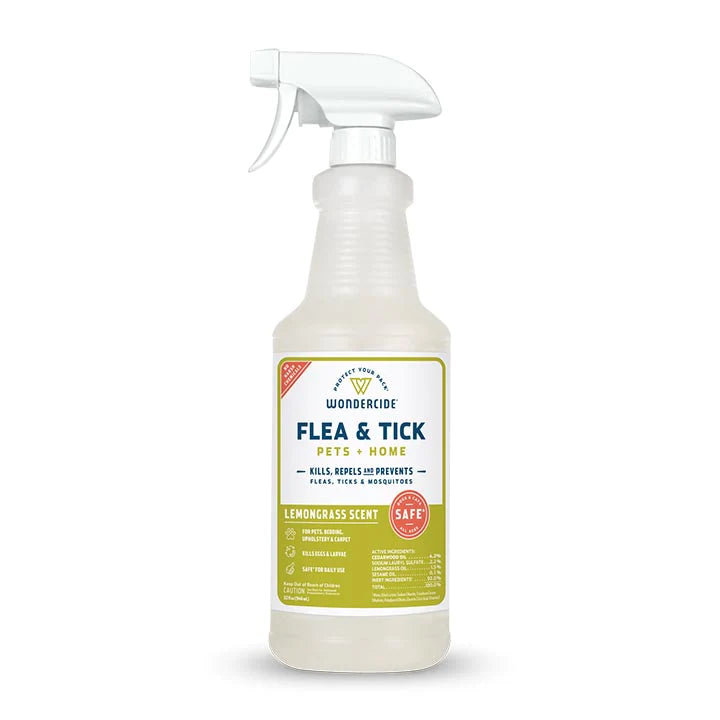 Wondercide Flea And Tick Spray, Lemongrass