Lumino Diatamaceous Earth For Poultry, 4-lb
Spend

$59.00

to

FREE LOCAL DELIVERY
Free Same Day Delivery on Orders $59+
100% Satisfaction Guarantee
Fast & Easy In-store Pickup or Curbside
Your Backyard "ladies" Will Love DE

Many chickens are moving from country farms to cities and suburbs where they have ultra fashionable coops furnished with art works and other decorative pieces.

Over 1,000 (and growing every day) towns and major cities are allowing backyard chickens. Many others are drafting ordinances to accommodate this phenomenon.

Whether you want fresh free-range eggs or are just looking for companion chickens, they are quite hardy and most of their potential health problems are preventable with a bit of foresight.

Many blogs (BackyardChickens, UrbanHens, and NewUrbanChickens) are writing about how to keep hens and roosters happy and healthy with Diatomaceous Earth. Lumino DE is USDA Codex Food Grade and Organic Materials Review Institure (OMRI) listed. It is 100% non-toxic. It will not harm children, pets, livestock, poultry, plants, or the environment.

After a refreshing dust bath, let your hens relax in their nesting boxes with a healthy and fragrant potpourri.

This aromatic blend of roses, lavender, calendula, and herbs will enchant your "girls".

Why Diatomaceous Earth for Poultry?

DE is USDA approved as an anti-caking agent for animal feed. It is FDA approved for internal and external use and has a rating of Food Chemical Codex Grade.

This remarkable substance is a natural desiccant. By drying up manure faster, it controls odors as well as keeps coops cleaner and drier.

DE contains 15 trace minerals including calcium, potassium, copper, zinc, phosphorous, silica, and selenium. Mixing Diatomaceous Earth with feed increases egg production and shell hardness.

Deodorization and absorption are natural functions of Diatomaceous Earth. The benefits will continue as undigested DE passes through and settles on cage or coop floors.

Our Diatomaceous Earth is OMRI (Organic Material Review Institute) listed Food Chemical Codex Grade. It is non-treated, freshwater Diatomaceous Earth that is mined, sifted, and bagged in the USA.

 
Sprinkle the coop or cage floor with shavings. Sprinkle in nesting boxes between layers of hay and mix a small amount into dusting bins.
Add one pound or 6 cups to every 50 pounds of feed.
Use as a white wash for roosts and walls. Mix one cup of DE to 1/2 gallon of water. Stir frequently.
100% Diatomaceous Earth (Amorphous non-crystaline silica).
View full details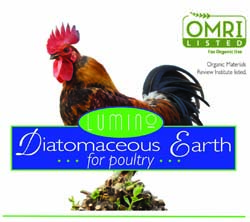 Lumino Diatamaceous Earth For Poultry, 4-lb