Amzey Appetizing Mealworms, Poultry Treat, 2-lb Bag
Spend

$59.00

to

FREE LOCAL DELIVERY
Free Same Day Delivery on Orders $59+
100% Satisfaction Guarantee
Fast & Easy In-store Pickup or Curbside
Mealworms are the main source of protein and nutrition for many animals. Animals that range from pets to wild all love to munch on dried mealworms whenever possible. Animals that are common household pets, such as chickens, reptiles, hedgehogs, fish (koi carp) and ducks, will come fralicking for mealworms when you provide for them at feeding time.

 

BOOSTS IMMUNE SYSTEM & IMPROVES HEALTH – Our mealworms contain high protein, vitamins, A grade edible oils and essential source of nutrients for baby chickens and other birds, especially in winter time. They are also fantastic for fish, hedgehogs, turtles, squirrels and a variety of hard-to attract various birds.

 

100% Natural, Safe – Non- GMO, preservative and additive-free. Have a piece of mind when feeding your animals with our high-energy all-natural product. Your animals will be very appreciated & grow sturdily!

 

HIGH IN PROTEIN – Hens need a tremendous amount of protein to lay eggs, also to create new feathers during their molt. Appetizing mealworms are extreme way to improve your animals\' protein intake!

 

At Appetizing Mealworms we sourced all of our own dried mealworms this is why we can be sure that they are absolutely highest quality and excellent product as fresh as possible!

 

EASY TO HANDLE – No refrigeration required. Our sturdy resealable bags are easy to use and store.
rude Fiber (min) – 10% Moisture (max) – 6%

Crude Protein (min) – 51% Crude Fat (min) – 20%

Lysine (min) – 2.6% Methionine (min) – 0.9%

Phosphorus (min) – 0.6% Salt (min-max) – 0.48% – 0.7%

Calcium (min-max) – 0.03% – 0.05% Sodium (min-max) – 0.08% – 0.11%


Keep feeders filled with fresh food
Discard old food before refilling & clean feeders regularly to minimize mold and bacteria.
This product is only intended for feeding wild birds.
√ Chickens, turkeys, ducks, etc.

√ Reptiles (i.e. turtles, bearded dragons, etc.)

√ Fish

√ Hamsters, sugar gliders, etc.

√ Hedgehogs

√ Lovebirds

√ Many different wild birds (robins, cardinals, and many more)

√ Other small animals
View full details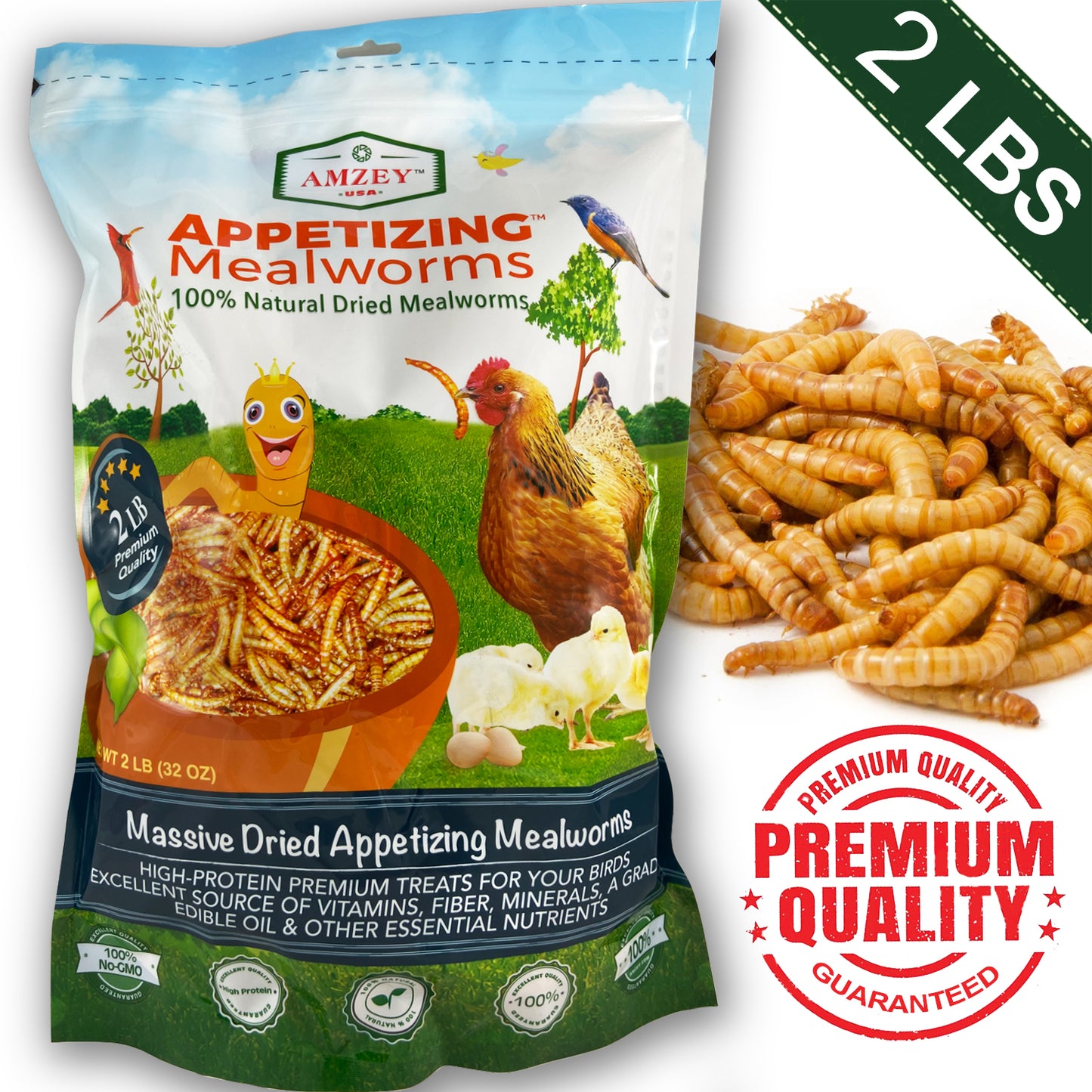 Amzey Appetizing Mealworms, Poultry Treat, 2-lb Bag