Scratch And Peck Naturally Free Organic Grower, Poultry Feed, 25-lb Bag
Spend

$59.00

to

FREE LOCAL DELIVERY
Free Same Day Delivery on Orders $59+
100% Satisfaction Guarantee
Fast & Easy In-store Pickup or Curbside
Naturally Free Organic Grower Feed for Chickens and Ducks is a Certified Organic, Non-GMO Project Verified product. While all of our products are soy-free, this product is both soy-free and corn-free.

Scratch and Peck Feeds are a special blend of cracked organic grains, organic flax meal, and select vitamins and minerals sourced from North American farms. Similar to Naturally Free Organic Starter, our Naturally Free Organic Grower Feed for Chickens and Ducks contains an optimum level of protein for Stage Two feeding.

This Stage Two feed provides pullets and cockerels (female and male teenage chickens) 8-20 weeks and ducklings ages 4 to 20 weeks with enough nutrient-rich formulation to continue their journey toward becoming layers or meat birds.  Meat birds move to Organic Broiler Feed + Corn at four weeks.

A nutritionally complete premium diet combined with fresh water, a clean coop and nesting environment, and plenty of fresh air, sunshine, and room to roam is among the most important considerations for your flock's long-term wellbeing.
Crude protein: min 17%
Crude fat: min 3%
Calcium: min 0.80% max 1.30%
Salt: min 0.25% max 0.75%
Lysine: min 0.80%
Crude fiber: max 5.50%
Methionine: min 0.30%
Ash: max 8%
Phosphorus: min 0.50%
Omega-3 fatty acids: min 1.00%

At 8 weeks you can begin to transition your growing birds to our Naturally Free Organic Grower from their starter ration as they have developed to a point where they can handle the larger whole grains. Refill feeders only after all feed has been consumed (til they "clean up their plates"). Trough feeders provide the best access to our whole grain feeds.

Be sure to continue offering grit – we provide Cluckin' Good Grower Grit, which is the appropriate size for birds who are not yet full grown. You can continue to feed our Naturally Free Organic Starter and combine with Grower if you still have some left. They should be large enough now to be outdoors and starting to get accustomed to sleeping in their coop.

Feel free to begin offering Organic 3-Grain Scratch or Organic Scratch n' Corn by tossing around their run to promote foraging (scratching and pecking) or use as a training tool to come when they are called!

You can also boost the nutrients by fermenting your flock's feed. Browse our Helpful Guides for more resources on how to use our feeds to optimize your flock's health.
Organic Wheat, Organic Barley, Organic Peas, Organic Flaxseed Meal, Fish Meal, Ground Limestone, Organic Flaxseed Oil, Vitamin and Mineral Pre-Mix
View full details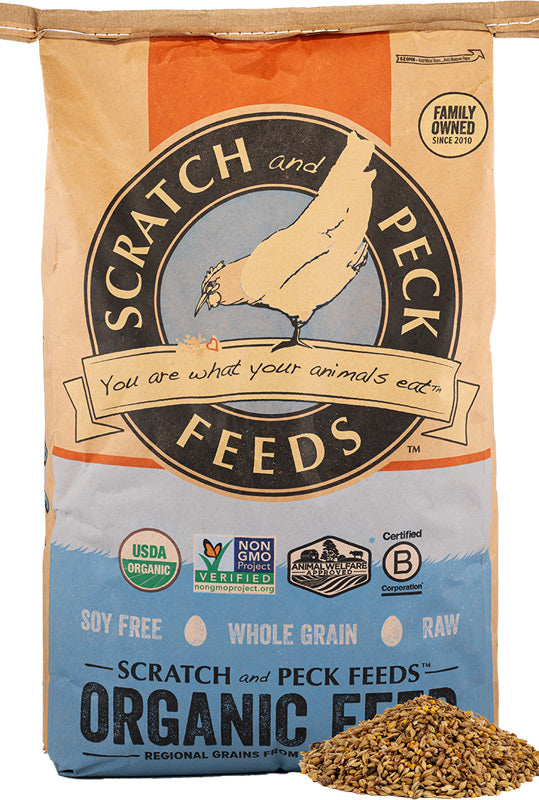 Scratch And Peck Naturally Free Organic Grower, Poultry Feed, 25-lb Bag